Lentry® Portable Power & Light Units to provide 10% more power
Surprise discontinuation of major component leads to improved power supply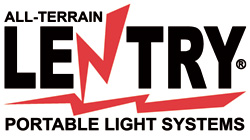 American Honda Power Equipment has discontinued a primary component of portable Lentry® Light Systems, replacing the popular EU2000i generator with the new EU2200i. As a result, Lentry® Lights-portable, telescoping lighting systems which feature only genuine Honda generators-will soon include the new EU2200i. The change represents a significant increase in power without any comparable increase in weight, noise, or expense.
Made by Ventry Solutions, Inc., All-Terrain Lentry Portable Lighting Systems are self-contained and offer computer-safe power and bright light to remote outdoor work sites. They light up entire job sites instantly, dramatically improving safety and reducing stress for those who work outdoors at night and in difficult environments. Honda's sudden discontinuation and replacement of their major component is a radical change. The switch takes effective immediately, with new generators not available early in 2018, according to American Honda Motor Co., Inc.'s announcement of December 14, 2017 [http://news.honda.com/newsandviews/article.aspx?id=10086-en]
All Lentry® Portable Lighting Systems incorporate Honda super quiet series generators and the EU2000i is found on the most popular models, those with model numbers that begin with "2." Upon receipt of the first new generators, Lentry Lights which previously featured EU2000is will include EU2200is instead. While no change in prices or model numbers are expected, run times and other specifications will change.
Only radical technical improvements could warrant this shift from such a popular generator to any other; indeed, the primary difference is a 10% increase in power without any remarkable increase in size, weight, or noise. The EU2200i offers 2200W max output and 1800W rated compared to the EU2000i at 2000W and 1600W respectively. The new generators' ease of use and maintenance and overall dependability have also improved, thanks to notable enhancements to the oil, fuel, ventilation, starting, and power production systems in the EU2200i. The new generator is powered by the Honda GXR120 Commercial Series four-stroke engine instead of the GX100. Once Lentry Systems that previously included the EU2000i have transitioned to EU2200i generators instead, the extra 200 watts of power will increase the units' run times and expand their ability to power sensitive computer equipment while simultaneously lighting large areas.
Honda pioneered the use of inverters in portable generators 20 years ago, offering generators that produced power "closer to line power' than any other non-inverter generator design," according to Honda's press release. This means that the power generated by Honda inverter generators, including the EU1000i, EU2000i, and now the EU2200i, all of which are utilized in Lentry Portable Power & Light Systems, is as "clean" as that from a residence or office. It is safe and appropriate to use these generators to run sensitive computer equipment. This remains a significant benefit of the new 2200W generators and, therefore, all models of Lentry Portable Lighting.
It will take some time after receipt of new generators at Ventry Solutions, Inc.'s factory for product photos, website, sales literature and other materials to reflect the new EU2200i generator. Additional information will be released gradually and as available. In the meantime, those with either generator, the discontinued Honda EU2000i or the brand new EU2200i generator, may purchase All-Terrain Lentry Power & Light Systems with everything except the generator and put together a complete Lentry Unit in about 15 minutes. Legs, lights, and other components retrofit to existing generators. Clients with existing Lentry Light Systems will not be affected by this change and continue to enjoy full warranties and lifetime factory support.
About Ventry Solutions, Inc.: Ventry Solutions, Inc. is a small, family-owned and operated company in Hauser Lake, Idaho, which has made "all-terrain" industrial safety products for nearly thirty years. Their unique products include portable lighting systems and portable ventilation fans, both with patented three-legged designs.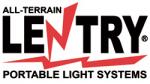 For More Information ContactAll-Terrain Lentry Lighting, by Ventry Solutions, Inc.Address:
14128 N Hauser Lake Rd
Hauser, Idaho
United States, 83854
ventry.com