Mitsubishi Electric - SVC Diamond™ Static Synchronous Compensator (STATCOM)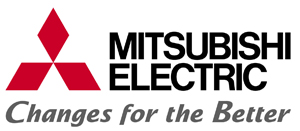 THE LEADER IN FLEXIBLE ALTERNATING CURRENT TRANSMISSION SYSTEMS (FACTS)
For more than forty years, Mitsubishi Electric Corporation has been a worldwide leader in the development, design and installation of Flexible Alternating Current Transmission Systems (FACTS). These solutions help electric utilities supply reliable, high-quality power. The SVC-DiamondTM, is an advanced FACTS device which uses voltage-sourced converter technology to provide the electrical transmission grid with reactive power compensation.
BUILDING ON A HISTORY OF INNOVATIVE TECHNOLOGY
In the early 1970's, Mitsubishi Electric developed Static Var Compensators (SVCs) by combining thyristor technology with reactors and capacitors. The resulting devices provided inductive and capacitive reactive power compensation and are the forerunners of systems the company continues to develop. Less than ten years later, the company supplied the world's first Voltage Sourced Converter (VSC)-based STATCOM for field use in 1979.
Building upon the VSC-based STATCOM technology, Mitsubishi Electric then developed the first Gate Turnoff Thyristor (GTO)-based STATCOM in the early 1990s with capacity that totaled 80 MVA. Now in service for more than twenty years, the Inuyama STATCOM has proven the effectiveness of Mitsubishi's STATCOM technology.
Continuing a trend of industry firsts, Mitsubishi Electric developed the first Gate-Commutated Turnoff Thyristor (GCT)-based STATCOM in the early 2000's, and in 2012, commissioned the largest STATCOM in the world with a total controllable operating range of 900 Mvar.
Now, we are pleased to introduce the company's latest technological advancement in FACTS products, the SVC DiamondTM.
SVC DiamondTM is an advanced FACTS device that employs next generation voltage-sourced converter (VSC) technology in a Modular Multilevel Converter (MMC) topology using Mitsubishi's own reliable and proven Insulated Gate Bipolar Transistors (IGBT) to provide the electrical transmission grid with dynamic reactive power compensation and improved voltage stability.
BRINGING CONTROL AND STABILITY TO THE ELECTRIC POWER TRANSMISSION GRID
As electric utilities experience an increasing array of challenges to meet consumer demand, Mitsubishi Electric's SVC-DiamondTM can help electric utilities take some of the stress off of the electric power transmission grid and supply their customers with continuous high-quality power.
Typical STATCOM transmission line applications include:
Controlling Transmission Line Voltage
Increasing Steady State Power Transfer Capacity
Enhancing Transient Stability
Preventing Voltage Instability
Augmenting System Damping
Improving High-Voltage Direct Current (HVDC) Link Performance
Enhancing Small-Signal Stability
Over-Voltage Suppression
Our SVC-DiamondTM can help an electric utility overcome the most complex and mystifying transmission-related challenges.
Among the many advantages that STATCOM technology provides, its reactive output capacity is directly proportional to system voltage. As a result of this feature, the STATCOM has superior low-voltage output capacity.
Additional features and benefits of STATCOM's include:
Superior Low-Voltage Output Capacity
Superior Overvoltage Suppression
Stable Operation When Applied to Weak Systems
Extremely Low Levels of Harmonics
No Filters Required
Reduced Voltage Loss
Small Footprint
MODULAR MULTI-LEVEL CONVERTER (MMC) TECHNOLOGY: A BUILDING BLOCK OF STATCOM SYSTEMS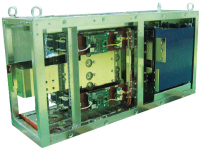 Mitsubishi Electric's SVC-DiamondTM Systems employ MMC technology to deliver superior performance that results in higher operating efficiencies and lower losses in addition to:
Near-Perfect Sine Wave Output
Little to No Harmonic Filtering
Low Losses Due to Low Switching Frequency
Standard Modules (Cells) Optimally
Connected in Series
Economical Design
Compact Size
Open Rack Design for Easier Maintenance
IGBTS ARE THE KEY COMPONENT TO MMC TECHNOLOGY
The functionality and durability of Mitsubishi Electric's STATCOM Systems are enhanced further through the use of the industry's most reliable IGBTs made in our own factory. In total, more than 40,000 of Mitsubishi Electric's IGBT's are currently in service in STATCOM and HVDC applications around the world.
For SVC-DiamondTM, Mitsubishi Electric's IGBT's are assembled into modules, or cells, that comprise the "building blocks" of the MMC technology.
An IGBT cell features:
Four (4) IGBTs Connected to Form a Full Bridge
A DC Capacitor Connected Across the Full Bridge
A Bypass Switch to Short Across Bridge the Output
IGBT FULL BRIDGE CONFIGURATION
IGBT modules are then connected in series with an arm reactor to form one branch of the SVC-DiamondTM. Three branches are then connected in a delta configuration to form a three-phase converter. The modules require very little operating energy and can operate at very low switching frequency (converter loss < 1%), and are easily cooled through a liquid to air cooling system.
SVC-DiamondTM MVAR ratings are optimized by varying the number of series devices up to 150 Mvar operating at design voltages from between 10kV to 33kV.
HYBRID SOLUTIONS
SVC-DiamondTM solutions often require unequal inductive and capacitive reactive output. Using MMC technology, STATCOM Systems can be connected in parallel with a thyristor-switched capacitor (TSC). The resulting configuration is an economical hybrid of SVC-DiamondTM & Conventional SVC systems and equipment that is characterized by extended capacitive output and very low losses.
CONCLUSION
Mitsubishi Electric has developed the next generation STATCOM to help electric utilities solve an increasing array of challenges to meet consumer and regulatory demands. Mitsubishi's SVC DiamondTM is sure to alleviate some of the stress on the electric transmission system and assure reliable, 24/7 high-quality power, and a greener tomorrow.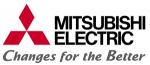 For More Information ContactMitsubishi Electric CorporationAddress:
530 Keystone Drive
Warrendale, PA
USA, 15086-7538
www.mitsubishielectric.com
Contact:

Tel: (724) 778-5111
Fax: (724) 778-5149
Web: www.meppi.com