Superior Trenched Systems: Taking Power Underground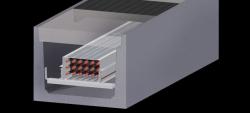 Superior Bus offers custom-engineered power distribution solutions that need to be installed underground. We use cable bus technology with insulated conductors for applications rated 600V-218kV and up, housed in concrete trenches that can be flushed to grade or direct buried. Available in up to H40 loading for road crossings. Our systems are wet-dry rated, frost-heave resistant, tamper-proof, and 100% maintenance free.
Cost Effective: Up to 1/3 of the price of traditional underground systems
Customizable: Precast concrete trenching available with ventilated or solid covers. Conductor sizing can be adjusted for solid covers and derated as per customer requirements
3 Step Installation: Install trench, set up Superiorbus TM, and place covers
To find out more about how we can help you with your next electrical distribution project, please visit our website: http://www.superiortray.com/ , email us at info@superiortray.com, or call us at 604.572.4419.
Superior Tray Systems Inc. (STS) specializes in manufacturing UL Listed and CSA Certified cable bus. Cable bus provides a reliable electrical power distribution system as an alternative to bus bars, bus ducts, cable raceways, and electrical conduits. STS was established in 1996 and is located in Surrey, British Columbia, Canada. Superior Tray Systems' cable bus systems are supplied all across North America.

For More Information ContactSuperior Tray Systems Inc.Address:
#12 - 13025 84th Avenue
Surrey, BC
Canada, V3W 1B3
www.superiortray.com
Contact:

Tel: 604.572.4419
Email: info@superiortray.com