Powell Industries Cycle+® Automatic Transfer Switch will be on-display at the 2018 T&D Show in Denver, Colorado
Positive Protection from Power Interruptions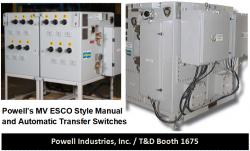 Powell has been providing solutions to automation and voltage loss restoration for more than 30 years. Whether the requirement is for a standalone automatic transfer switch, an automatic transfer switch with load fault protection, or a multiple source system reconfiguration with high speed transfer, Powell's experience in providing preferred/alternate, main-tie-main, and multisource load shedding allows us to provide a solution that meets or exceeds our customer's requirements.
Powell MV ESCO Style switches can be combined in a wide variety of configurations so as to suit the custom needs of the end user for applications from 5kV through 38kV. Interruption medium choices cover the technology range of SF6, Oil, and Vacuum all while providing you with value proposition solutions covering size, cost, transfer speed, fault protection, operation (manual or electric), and switch positions.
Powell's transfer switch options are compact in size, cost effective, have transfer speeds from 25mS to 15 Seconds, can be Manual or Automatic transfer, use a wide variety of interrupting media including: SF6, Oil, or Vacuum. Insulating media is available in SF6 or Oil.
At the 2018 T&D Conference in April, Powell's product booth will have a typical Utility Transfer Switch on-display so you can see for yourself the construction features and design benefits. Come by and talk with the Powell team to learn how Powell's Transfer Switches can be of service to you on your next project.
Powell Industries, Inc. designs, manufactures, packages and services equipment and systems for the distribution and control of electrical energy. Headquartered in Houston, Texas, Powell serves public and private utility customers, large industrials such as oil and gas producers, refineries, petrochemical plants, pulp and paper mills and transportation providers.

Come visit Powell Industries at Booth Number 1675 during T&D in Denver, April 17-19, 2018.

For More Information ContactPowell Industries, Inc.
www.powellind.com