Manitoba Hydro International's High Voltage Test Services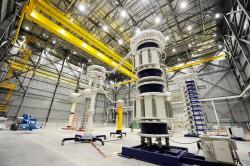 Join us at Manitoba Hydro International Ltd.'s (MHI) High Voltage Test Services booth (#1551) at the 2018 IEEEPES T&D Conference and Exposition in Denver.
MHI, in partnership with Manitoba Hydro's High Voltage Test Facility (HVTF), provides robust quality assurance test programs for a wide variety of high voltage electrical equipment and materials in accordance with IEEE, ANSI, IEC, and CSA standards. The HVTF staff are industry experts with over 40 years of experience in high voltage and insulation testing.
The HVTF is capable of testing electrical apparatus rated up to (and including) 550 kVac and 500 kVdc, including:
Stator coils and bars;
Insulators and line hardware;
Vehicle-mounted aerial devices;
Apparatus bushings and wall bushings;
Instrument transformers;
Power transformers.
MHI provides test services tailored to meet the specialized needs of utilities, heavy industry, academic research institutions and more. We have the ability to customize test set-ups and voltage levels to meet specific requirements, and have recently expanded our thermal cycling testing capacity to serve the needs of our growing clientele.
Visit MHI's High Voltage Test Services at booth #1551 to see how we can meet your high voltage testing needs. To learn more about our services, visit hvts.ca or contact hvts@mhi.ca.

For More Information ContactManitoba Hydro International
www.mhi.ca