Gain Insights to Underground Vaults without Removing the Manhole Cover
Novinium Smart Monitoring Solution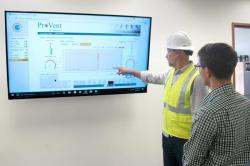 As America's underground vault infrastructure ages, manhole smokers, fires and explosions are becoming a critical concern for utilities. In the last six months, there have been major explosions from Boston to Los Angeles and everywhere in between. Due to limited resources, most utilities rely on occasional inspection programs that rarely identify problems in time to prevent them. While they want to have a more proactive method of determining when a manhole event will occur, most utilities may not be aware of smart solutions to help utilities stop manhole events from occurring.
Utilities can gain operational efficiency and potentially save lives by applying common-sense prevention measures and using data, not just people, to track the environmental conditions across an entire network of manhole vaults. Some leading North American utilities are implementing this approach to completely prevent the fires and explosions from happening. The holistic solution includes real-time smart monitoring with data analytics to identify trends before they become a problem. The utilities can now see if carbon monoxide levels are spiking before they reach critical explosive concentration. This solution also includes active venting, and a technology-enabled cover system that allows ventilation, communication and water control. Imagine how helpful it will be for a utility manager to detect when a manhole has been entered, or to know in real-time how much water is in a vault prior to sending out a utility crew.
PreVent vault solution is the only holistic system that brings together all of these technologies to help utilities prevent smokers, fires and explosions. The solution provides real time visibility and long term analytics to improve decision making and optimize underground asset management. From a utility perspective, this kind of system easily facilitates action plans to address unsafe conditions before they become a problem. In this way, IOT technology and 24/7 monitoring provide the accurate and timely information needed to take preventative action, while counteracting the high cost and potential human harm from a manhole event.
To learn more about PreVent and Smart Monitoring, stop by booth 1259 at the show or visit www.novinium.com

About Novinium:
Novinium is today's only full-service cable rehabilitation technology company. We serve utilities across North America to keep their networks operating at peak performance, using the most advanced, capital-efficient, environmentally friendly methods available. We rejuvenate aging underground cable to better than new performance and to exceed reliability standards. Headquartered in the Seattle, WA area, Novinium was founded in 2003 by Glen Bertini, the inventor and expert cable rejuvenation technology.
The company complements its industry-leading expertise in rejuvenation with a range of service offerings including cable assessment, repair and replacement, lineman services, comprehensive data tracking, and end-to-end project management to help utilities of all sizes manage system reliability targets and complex technical challenges efficiently. Novinium recently extended its reach to city streets with the introduction of its innovative PreVent smart monitoring system for vault and manhole event mitigation. Further information is available at novinium.com
For More Information ContactNoviniumAddress:
22820 Russell Rd
Kent, WA
USA, 98032
www.novinium.com
Contact:
Beverly Thompson
Novinium
Tel: +1 253.395.4504
Email: Beverly.Thompson@Novinium.com