Mini-MAX HF Hydrocarbon Stop ValveBig things come in small packages
Introducing Albarrie GeoComposites exciting new product!

Albarrie is exhibiting at the IEEE T&D Show in Chicago, IL, USA April 20th - 23rd, 2020 - Booth no. 933
Hydrocarbon spills are difficult to contain, prevent, and clean up. There is only a small window of time before a small leak can become a big problem. A look into the secondary oil containment market revealed the popular approach of using oil plugs or filters as an effective, non-mechanical, method of draining water from standard concrete containments while minimizing the risk of hydrocarbon discharge. That's why Albarrie developed the Q-MAX Stop Valve which has gained a large footprint across the power industry for its effective design, low cost, and long product life. Due to popular demand Albarrie designed a mini-version to fit into small spaces. The MINI-MAX still offers 360 degrees of filtration, at half the size, with the same power!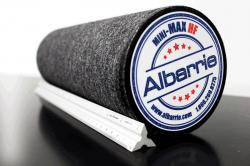 When was the last time your maintenance personnel cleaned debris from your pre-filters? Luckily, with Albarrie's hydrocarbon filters, they do all of the reacting for you. Once installed, you can feel confident that you are receiving the highest protection available with the least amount of maintenance. Perhaps the real genius behind Albarrie's stop valves are their free-flowing abilities. No manpower is required to open the valve every time it rains. Water can easily pass through the core without disrupting its effectiveness. When subjected to hydrocarbons, its extraordinary absorption capabilities will ensure that no oil gets through.

For more information, please contact us at 1-844-SORBWEB (7672932) or visit: https://www.albarrie.com/secondary-containment/custom-products/q-max-hf-high-efficency-hydrocarbon-filter/
For More Information ContactAlbarrie GeoComposites
www.albarrie.com