Switchgear Camera Systems for Power Grids: Safe Live Imaging of Switches and Breakers with Field-Proven Camera Systems
BOOTH 2279 IEEE T&D SHOW

Safe solutions with specialized camera systems: Kappa is your most experienced partner for switchgear camera systems (SGC) complying with IEEE C.37.20.9.
We provide a comprehensive range of extremely robust switchgear cameras designed for safe live monitoring of GIS, Hybrid Switchgear, GCB, and air-insulated applications in the typical harsh environment of medium and high voltage networks. All switchgear cameras can be adapted to any type of viewport / equipment and specific customer requirements. We offer digital and analog cameras as scalable stationary or mobile solution with portable video unit, for new substations or upgrading of running systems. Thousands of switchgear cameras are already in use worldwide and contribute to occupational safety of the plants (e.g. prevention of eye damage). Our plant-focused concept assures quick, easy and safe installation of the switchgear cameras.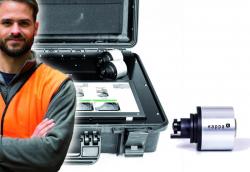 Photo: © Kappa optronics:
Imaging of switches and breakers with Kappa switchgear camera or portable video unit.
Press web section: https://www.kappa-optronics.com/en/news.cfm
Kappa optronics
Kappa has over 40 years of experience in the development and manufacturing of application-specific cameras and vision systems in extremely robust and certified designs. We offer innovative vision solutions for maximum performance of the entire system, especially in safety-critical environments. Precise advice, dynamic project management, and above all, a development team with profound experience generates success. Our portfolio includes signal processing, mechanical modifications and customer-specific interface configurations, as well as integration of optical components, lighting, and video management. We aspire to achieve the technologically best solution within specific quality requirements. We achieve safety levels for approval in regulated markets with standardized design assurance procedures in hard- and software development.

For More Information ContactKappa Optronics
www.kappa-optronics.com