Superior Tray's New Generation of Short Circuit Bracing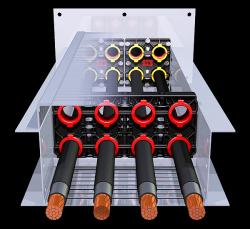 Superior Tray Systems Inc. specializes in manufacturing engineered cable bus and cable tray systems. STS is a professional business that was established in 1996 and has since been leading the industry with cutting edge technology. Our design and manufacturing facility is located in Surrey, British Columbia, Canada and the product is supplied all across North America.
New Generation of Short Circuit Bracing
Ease of installation is key when it comes to any power distribution system. Superior Tray Systems understands this principle very well. Over the past year, their engineering and fabrication teams have been working tirelessly to roll out several advancements to their cable bus line. The latest generation of support blocks introduces all new features in several areas.
New Support Block Features
The new support blocks are easier to install, even in vertical or overhead situations. Ultra low friction allows cables to be pulled in easily and permits thermal expansion. The new system is colour coded, allowing for positive visual confirmation on large projects with multiple ampacities. Every cable is surrounded by a shock absorber and mounted within an extremely rigid support system, thus protecting the cable during a short circuit event.
Benefits of a Balanced System
In addition to support blocks, proper system balance provides another level of security in the event of a short circuit. System balance refers to the optimal cable arrangement within the ventilated enclosure. Superior Tray Systems achieves proper balance through their FEA analysis, which is provided as a report included with every system. In a balanced system, a short circuit is carried evenly by all conductors. Cables are arranged such that short circuit magnetic forces will be minimized, thus reducing risk of damaging the cable insulation.
"The only way to build a system this safe and efficient is by understanding and analysing every aspect of it. We model the conductors, insulation, shielding, jacket, and the ventilated enclosure using a fine mesh of typically 400,000 nodes," says Martin Cox, Superior Tray Systems President.
Customers who want more information about short circuit bracing and system balance can find it on Superior Tray Systems website: www.superiortray.com

For More Information ContactSuperior Tray Systems Inc.Address:
#12 - 13025 84th Avenue
Surrey, BC
Canada, V3W 1B3
www.superiortray.com