Oil containment Systems for Natural Ester-Based Fluids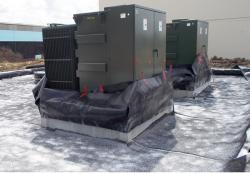 Albarrie's EsterWeb is the ideal passive oil containment system for natural, Ester-based fluids like Envirotemp FR3, or BIOTEMP. Although officially classified as being "readily biodegradable", ester oils still produce a sheen if released into the environment, and still require secondary oil containment, according to the U.S Environmental Protection Agency. Albarrie has tailored its Sorbweb oil containment system to account for the slow coagulation of these oils, ensuring their full containment in the event of a leak.
Esterweb Oil Immobilizing Polymer Applied to Geo Mesh
How It Works
EsterWeb allows rainwater or snowmelt to pass through its smart layers without accumulating, thereby eliminating the need for pumps or oil detection systems. If an oil leak or catastrophic failure occurs, the smart, oleophilic (a substance with an affinity for oils and not for water) layer will congeal and seal, trapping the oil within the containment.
EsterWeb includes a special microporous flow control layer, which traps and holds a thin layer of water on its surface. This process slows down the penetration of oil through the coagulation layer allowing for adequate solidification time while maintaining the free-draining ability of the system.
Applications
All size transformers and other equipment filled with Natural Ester oils
Oil filled assets located in remote unmanned areas
Environmentally sensitive areas where an oil spill could cause significant damage
Ideal performance in wet climates
Can be installed both in new substations or retrofitted into existing concrete containments eliminating standing water and the need for mechanical pumps
Benefits & Features
Budget-Friendly - compared to traditional and alternative oil containment systems, EsterWeb is less expensive to install and maintain
Maintenance-Free - the "smart" vertical barrier boom traps and locks in hydrocarbons on contact, allowing water to pass freely
Flexible Design - designed for your specific application by professional engineers. Custom sizing and volume capacity preferences are available depending on your requirements. The containment system can be extended or modified up to and during installation.
Easy to Install - installed without interruption of service in either brownfield or greenfield applications. Our system comes complete with all materials required for assembly for either self-installation or installation by the professional Albarrie team
Fully Accessible by Vehicles - designed to handle maintenance vehicle loads
Addresses All Soil Types - can be installed in any soil condition. Not intrusive to natural drainage
Environmentally Compliant - Meets EPA requirements of Secondary Containment for SPCC 40 CFR 112.7 and IEEE Std. 980
As part of our commitment to full service, we stamp our IFC drawings. Our final reports include stamped As Built drawings, detailed volumetric calculations of the containment, step by step documentation of the installation and an emergency preparedness guide.
Join us at IEEE 2022, booth # 5618
For More Information ContactAlbarrie GeoComposites
www.albarrie.com/secondary-containment/
Contact:
Carla Smiderle
Tel: 705-241-7965
Email: carla_smiderle@albarrie.com