SPI Protects Storm Drains from Oil Releases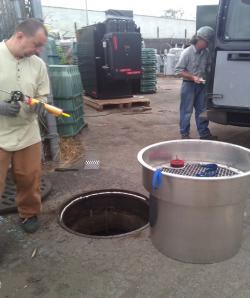 Solidification Products International Inc's (SPI) Stormwater Petro-Barriers are installed throughout North America. These patented inserts are helping a multitude of industries protect storm drains from discharging oil sheen during a rain event. Leaky oil filled equipment or tanks can weep small amounts of oil and fuels which may be carried off in rainwater as oil sheen. Industrial facilities have been pleased to discover that SPI's Stormwater Petro-Barrier applications provide rainwater discharge while absorbing oil sheen. This is a cost-effective method to avoid other more expensive and labor-intensive methods, such as pump and treat.
Certified lab testing over a period of eighteen months involving low level discharges of fuel and oil of 20 ppm through SPI cylinders with SPI patented media verified that oil was removed to non-detectable levels. These lab tests were all performed in the lab with the low-level hydrocarbon water being used in the same SPI media vessels over the course of the eighteen-month test.
Oil containment is a challenge in all facilities with storm drains which are located near oil filled transformers, diesel tanks or vehicle traffic. Increased liability due to small and large oil releases reaching these storm drains located near oil filled equipment can become a costly cleanup. SPI is equipped to design and build custom Stormwater Petro-Barriers in any configuration to fit a client's specific need. All products are built for 100% oil containment in the event of a large spill but also remove ongoing low level oil sheen before discharging the water.
The Stormwater Petro-Barrier is built of aluminum and can be outfitted with an emergency relief valve to quickly drain excess water during a flood event. The valve is operated with a T-handle and opens easily when turned. In most cases these valves are never used as the water filters through the SPI Patented Media. The top portion of the Petro-Barrier retains dirt and debris in sediment filters. These filters absorb fine dirt throughout their structure while still allowing water to flow. When dirt, leaves and other debris slow down the water flow, they are easily removed, and the sediment filters replaced. The Petro-Barrier is protected from the loose dirt from entering into the media when maintained properly.
In the event of a full oil or fuel spill the oil is absorbed into the barrier media and shuts off all flow within seconds. The oil will then back up onto the storm drain surrounding area until cleaned up.
The following picture shows one of SPI's Stormwater Petro-Barrier being installed in Long Island, New York. This area stores oil filled equipment and had the potential for an oil spill or oil sheen release. With the Petro-Barrier installed only oil free water will be released.
Please stop by at the IEEE TRANSMISSION AND DISTRIBUTION CONFERENCE and visit us at Booth 8257

For More Information ContactSolidification Products International, Inc. (SPI)Address:
524 Forest Road
P.O. Box 35
Northford, CT
USA, 06472
www.oilbarriers.com