Powell Industries showcases BriteSpot® Thermal Monitoring Technology at the 2018 T&D Show in Denver, Colorado
Meeting the Need for Continuous Thermal Monitoring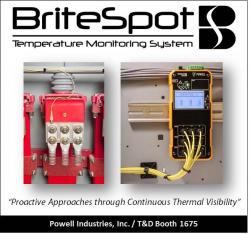 Increasingly stringent guidelines are causing modern industrial facilities to place more emphasis on personnel safety. As a result, many formerly accepted practices are no longer permitted. Electrical personnel are now prohibited from working inside energized equipment using everyday clothing and tools.
Embracing alternative technologies to execute hazardous tasks, without sacrificing the results, will aid in the advancement of workplace safety practices. Infrared (IR) scanning has long been the primary method for detecting thermal abnormalities caused by loose connections, imbalanced loads, overloaded circuits and a range of other issues in conductive environments.
Obtaining the most accurate assessment of an equipment's thermal condition requires a survey during peak load conditions. To do so with traditional infrared scanning, opening doors and the removal of covers, barriers and insulating materials is required to expose the electrical conductors. Since most facilities prohibit personnel from this type of access without the equipment de-energized, monitoring and recording thermal data can be inaccurate or unobtainable.
Powell's BriteSpot® Thermal Monitoring Technology provides those working with electrical equipment the capability of a direct-connect, real-time method of temperature monitoring in inaccessible locations. All while providing for the maximum safety and protection of personnel and equipment.
At the 2018 T&D Conference in April, Powell's display booth will be showcasing a full range of BriteSpot® products and applications, that will allow for real-time thermal monitoring, while enhancing personnel safety and minimizing unplanned outages.
Powell Industries, Inc. designs, manufactures, packages and services equipment and systems for the distribution and control of electrical energy. Headquartered in Houston, Texas, Powell serves public and private utility customers, large industrials such as oil and gas producers, refineries, petrochemical plants, pulp and paper mills and transportation providers.

Come visit Powell Industries at Booth Number 1675 during T&D in Denver, April 17-19, 2018.

For More Information ContactPowell Industries, Inc.
www.powellind.com