Powell Industries to promote Circuit Breaker Monitor™ (CBM) technology at the 2018 T&D Show in Denver, Colorado
Real-Time Circuit Breaker Data Acquisition and Diagnostics
CIRCUIT BREAKER REAL-TIME CONDITION MONITORING? Yes! Powell's Circuit Breaker Monitor (CBM) encourages a shift from time-based maintenance to a predictive approach which has proven to improve labor resource efficiency, safety, as well as asset availability. Continuous monitoring of a circuit breaker's mechanical, electrical, and environmental parameters directly correlates to a reduction in system downtime, a reduction in maintenance cycles, and an increase in equipment reliability and utilization.
The Circuit Breaker Monitor (CBM) uses advanced algorithms to analyze past and present data for inferring equipment health. CBM interfaces with Powell's BreakerView software, performing additional analysis and presenting the user with a simple status dashboard view of the information. This intuitive dashboard offers the user alert management functions, maintenance reports, and data trending, all proven invaluable for increasing equipment uptime and reducing the overall cost of ownership.
At the 2018 T&D Conference in April, Powell's product booth will have a full range of Circuit Breaker Monitor (CBM) applications on-display. Come by and learn how Powell can incorporate CBM into your electrical distribution equipment designs.
Powell Industries, Inc. designs, manufactures, packages and services equipment and systems for the distribution and control of electrical energy. Headquartered in Houston, Texas, Powell serves public and private utility customers, large industrials such as oil and gas producers, refineries, petrochemical plants, pulp and paper mills and transportation providers.

Come visit Powell Industries at Booth Number 1675 during T&D in Denver, April 17-19, 2018.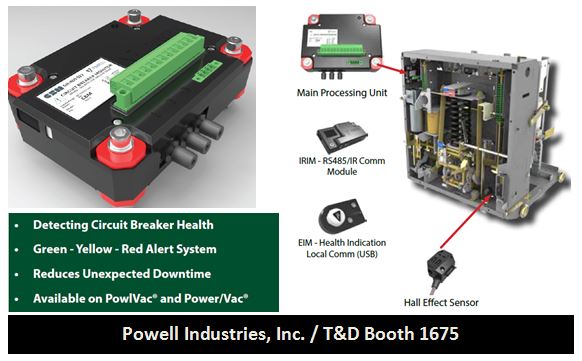 For More Information ContactPowell Industries, Inc.
www.powellind.com