56,000 lumen Lentry® 2-Headed LED
Adds safety and lowers labor costs at nighttime work sites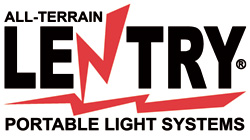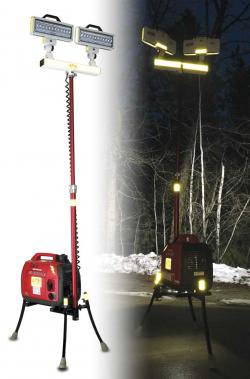 Ventry Solutions, Inc. introduces the Two-Headed V-Spec LED Lentry® Light, model 2TWSPX-C. This portable lighting unit lights large areas so well it's like having the sun in your tool box. The light dramatically improves job site safety and reduces worker stress and labor costs by lighting a large area so well and so easily that crews can see what's going on around them, see their own task and tools, work safer, feel less stress, and finish faster.
For all-night, all-terrain site lighting, the Lentry 2-Headed LED, model 2TWSPX-C, has two V-Spec LED heads on one telescoping extra tall "XT" pole. A fuel-efficient generator provides quiet, reliable, computer-safe power for 8 to 10 hours (per tank) with one or both lights on. Patented all-terrain Lentry® Legs allow for level, stable operation as the light is extended to its full height and allows optimal positioning in good, bad and changing conditions.
The LED lights are exceptionally bright 28,000 lumens each and together they produce 56,000 lumens while only drawing 672 watts; this leaves over 1300W with which to run other tools. The LED heads each have their own on/off switches but share one cord, leaving one of the generator's two outlets free. The light heads each pivot forward and back more than 180º total and rotate 450º. They boast low operating temperatures, instant-on at full intensity with no cool-down needed, heat resistant handles, and wide, far reaching illumination. LEDs are long lived and maintenance free, with solid state electronics (no bulbs to burn out) and their light is bright and white, very close to natural sunlight. A military-grade, lifetime-warrantied case is included to protect and hold the valuable LED head.
With legs and pole fully extended, this unit raises the lights to about 9 feet tall. The light is almost 6 feet above the ground even without extending the pole. The unit breaks down into 3 major components plus the case and is easily dismantled in seconds, without tools, for easy transport and storage. The legs on the Lentry Light also retract, tucking close and protecting the generator, and keeping storage dimensions minimal.
The brightness, versatility, run times, convenience and portability of Lentry LED Light model 2TWSPX-C make it a valuable alternative to gas-powered flashlights as well as trailer-mounted light towers. Fast deployment and stable, ideal positioning mean that rough, steep, debris-covered ground will not hinder lighting efforts.
About the company:
All-terrain, portable Lentry® Lights are made in the USA. They are all-terrain safety tools patented and manufactured by Ventry Solutions, Inc., a small, family owned and operated company in Idaho.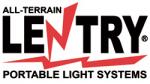 For More Information ContactAll-Terrain Lentry Lighting, by Ventry Solutions, Inc.Address:
14128 N Hauser Lake Rd
Hauser, Idaho
United States, 83854
ventry.com
Contact:
Joan Rodman, Communications
Ventry Solutions, Inc.
Tel: (888) 257-8967
Email: joan@ventry.com