NEC- And NESC-Compliant Stainless Steel Ground Rods Available Now From Galvan Industries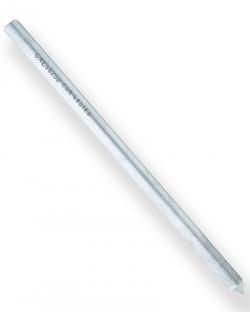 Stainless steel ground rods that comply with all current requirements of the National Electrical Safety Code and National Electrical Code are available now from Galvan Industries.
The 304 solid stainless steel electrodes accommodate standard threadless couplers. Galvan designed the ground rods for easy, sure installation with a chamfer on the driving end and a pointed conical driven end.
Galvan supplies the 304 stainless steel rods in code compliant lengths, ranging from 8 to 12 feet and in nominal diameters of 5/8-inch, ¾ inch and 1 inch.

About Galvan
A supplier of premium quality ground rods for four decades, Galvan products are reliably performing today in many applications, including electrical transmission and distribution, construction, cable TV, lightning protection, power generation, telecommunications and manufacturing. By maintaining stocking locations across the country, Galvan ensures fast turnarounds on orders.
For more information or to place an order, contact Galvan Industries, Inc. at 1-800-277-5678, or fax to (704) 455-5215. Visit Galvan at the IEEE PES T&D Exposition, Booth #3460, or on the Web at www.galvanelectrical.com.

For More Information ContactGalvan Industries, Inc.
www.galvanelectrical.com
Contact:
Galvan Electrical Products
Fax: (704) 455-5215
Tollfree: 1-800-277-5678
Email: sales@galvanelectrical.com
Web: www.galvanelectrical.com