Saf-T-Gard Announces the Voltgard® Original Rubber Goods Change-Out Program®
Industry's first structured, professionally-managed program to monitor, track and manage rubber insulating products' in-service use and testing intervals for electrical co-ops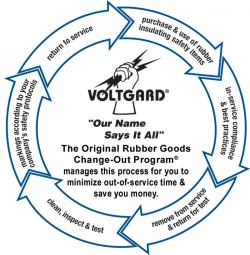 Let the Voltgard® Original Rubber Goods Change-Out Program® unburden you from the coordinating, organizing, inventorying and scheduling of multiple rubber insulating product types, sizes and quantities while ensuring your co-op safe and timely compliance. This program provides a hassle-free, start-to-finish solution that includes the monitoring, tracking and managing of rubber insulating products' in-service use and testing intervals for you so that your workers can focus on other work priorities while staying safe and productive! Ideal for electrical co-ops and other large users of rubber insulating products, the program includes cleaning, visual inspection, electrical testing, markings according to your company's safety protocols and shipment to warehouse or job site when and where they are needed. Come check out the benefits of this program at the 2022 IEEE PES T&D Conference and Expo in New Orleans, Louisiana, April 25-28, 2022, at booth #4511.
About Voltgard Test Lab
Voltgard started as a small test lab in 1983, supplying testing of gloves and blankets for a regional telecom provider. Over the past 30+ years, it has grown to become the largest independent testing facility in the United States, with customers including electric utilities and contractors, co-ops, telephone and telecommunication companies, cable television operators and industrial facilities. Saf-T-Gard's Voltgard-branded electrical safety items, including rubber insulating blankets and leather protector gloves, are recognized worldwide as products offering unparalleled quality. For more information, visit www.saftgard.com or e-mail voltgard@saftgard.com.
About Saf-T-Gard International, Inc.
Located in Northbrook, Illinois, Saf-T-Gard International, Inc. is a privately-held family-owned and operated global supplier of industrial safety products. Founded in 1936 as Latex Glove Manufacturing Company, Saf-T-Gard quickly evolved into a predominant manufacturer, distributor, importer and exporter of personal protective equipment, environmental safety, facility safety, first aid, public safety and electrical safety. Today, Saf-T-Gard carries on the tradition that was started more than 80 years ago: bringing customers the products, training and service they need to keep employees safe in the workplace. Saf-T-Gard is an active member of the National Safety Council (NSC) and the Safety Marketing Group (SMG), as well as the American Society for Testing Materials (ASTM) and the International Safety Equipment Association (ISEA) committees responsible for the development of industry standards for protective equipment. Saf-T-Gard provides thousands of solutions from recognized brand names in addition to its renowned line of proprietary brands. Saf-T-Gard actively operates the Voltgard® Test Lab, one of the largest, independent, NAIL4PET-accredited test labs for rubber insulating products in the United States. To learn more, please visit www.saftgard.com or call 1-800-548-GARD (4273).

For More Information ContactSaf-T-GardAddress:
205 Huehl Road
Northbrook,, Illinois
United States, 60062
www.saftgard.com
Contact:
Lisa Seminara
Senior Marketing Director
Tel: 847-291-1600, ext. 2667
Email: LSeminara@saftgard.com