Case Study: Extending the Life of Underground Transmission Lines Through Cable Rejuvenation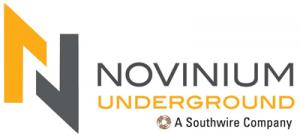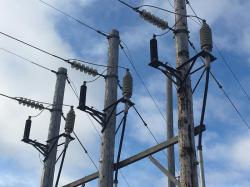 INTRODUCTION
The power grid is tasked with providing reliable power between the points of generation and the end users. Within the grid, transmission cables serve as the trunklines, transmitting power over great distances. With a single outage able to plunge thousands of homes and businesses into darkness, reliability of transmission circuits is paramount. In the United States, much of the transmission infrastructure is built overhead, with underground circuits often reserved for specialty applications. As the earliest solid-dielectric underground transmission cable systems reach the end of their life estimation, circuit owners are faced with a decision on whether to replace these critical pieces of infrastructure or rejuvenate the cable through silicone injection.
BACKGROUND
The power industry's move to underground power cable systems began to accelerate in the 1960s after the introduction of solid-dielectric materials like polyethylene and EPR. As these early-generation solid-dielectric cables began to experience failures in as little as 10 years, water trees were soon discovered. Consequently, a push toward higher quality cable construction techniques and solutions for the cables already installed, like silicone fluid cable injection, were born.
UNDERGROUND TRANSMISSION LINES
Installation of solid dielectric transmission lines began in the 1950s using rubber insulation and expanded greatly in the 1970s with the advent of cross-linked polyethylene. Since their introduction, the industry has created guides and standards to aid their adoption.
As a complement, the means to terminate solid-dielectric transmission cables and make connections to ancillary equipment also evolved. Early termination designs mimicked those of paper insulated lead covered (PILC) power cables using porcelain insulators and hand-taped stress-relief cones. Over time, improvements were made to simplify installation. Modern designs feature push-on or cold-shrink style rubber stress-relief cones. The rigid and self-supporting porcelain bodies are being phased out in favor of lighter weight composites that are easier to lift and install. Alternatively, heat-shrink and cold-shrink terminations were introduced that are both lighter weight than some composites and offer more flexibility.
CABLE REJUVENATION
Cable rejuvenation through silicone fluid injection has been a popular alternative to the replacement of aged and failing medium and high-voltage power cables for the past 30 years. Cable injection improves the dielectric strength of aged and water-treed cable insulation and, when coupled with new craftwork and accessories, elevates the rejuvenated cable system toward parity with the reliability achieved by replacement. The chemistry, process, and efficacy of cable rejuvenation have been well documented and summarized in literature. To date, over 46 million meters (150 million feet) of solid dielectric cable have been rejuvenated through silicone fluid injection by more than 300 utilities worldwide. Of which, over 15 thousand meters (50 thousand feet) of sub-transmission and transmission cable have been rejuvenated to date. Projects have been completed using porcelain, heat-shrink and cold-shrink accessories from manufacturers including G&W Electric, Joslyn, TYCO and 3M.
ATLANTIC MUNICIPAL UTILITIES
With the age of its critical transmission line surpassing 50 years, Atlantic Municipal Utilities (AMU) knew action was required to maintain the reliability of their grid. The circuit is a radial system that runs from the mainline switch station to a stepdown transformer. The line feeds several industrial customers making up a large share of the region's top employers including an ethanol plant that recently went online in 2019. While the majority of the transmission circuit is built of overhead construction, the crossing of the Atlantic Municipal Airport runway's glidepath required a 400-meter (1/4 mile) span be built underground. Cable replacement was the traditional choice but after hearing of cable rejuvenation, Atlantic Municipal Utilities decided to take a closer look at the alternative.
PROJECT
Atlantic Municipal Utilities took action and chose to address their reliability concerns on their 50-year-old transmission line through cable rejuvenation. Even as a global pandemic set in, the project proceeded from an introductory meeting to completion in just over 11 months.
After learning of silicone cable injection from a colleague, an introductory meeting with Novinium was held virtually in April of 2020. Atlantic Municipal Utilities shared their concern for their aged transmission line's reliability and critical details of their system's construction. Past successes on similar transmission circuits were shared with AMU. The project team walked the circuit to prepare a formal work plan, while confirming the scope and assignments. Access to the riser poles was verified and notice was provided to the Union Pacific railway and the adjacent corn farm of the work schedule.
The project plan created saw the outage start on April 13th and the power restored 8 days later on April 21st. Turnkey line crew consisting of 4 journeyman linemen were supported by engineers from G&W Electric and Novinium.
The project began on schedule and was completed 2 days ahead of plan on April 19th with the crew opting to work 12-hour shifts and make the most of the fair spring weather before winds were expected to resume later in the week. Craftwork to remove all six 50-year-old terminations was completed on the first day compared to the two-plus days forecast. Craftwork to prepare the cables for injection was performed on Day 2 with the installation of the 6 injection adapters.
Injection of the 3 phases was completed on Day 3 with injection times under 7 hours. Treatment levels were near their estimates with each cable receiving approximately 25 liters of fluid.
Craftwork to complete the terminations began on Day 4 with two bucket trucks working in tandem. Craftwork and final proof testing of the circuit were completed two days early on Day 6, prior to the system being returned to Atlantic Municipal Utilities to be re-energized.
TECHNOLOGY
The Atlantic Municipal Utilities project marked the first factory and in-field collaboration between engineers from G&W Electric and Novinium. Additionally, given the requirements imposed by the oil-filled terminations, this project was the first to use an injection adapter (IA) installed within the porcelain housing.
The injection adapter (IA) was designed to fit the geometry of the cable and the electrical connector for termination kit. Once the constraints were fully identified during the planning stage of the project, the manufacturing and testing of the new IA was completed as scheduled within a 4-month window.
The pre-assembled termination (PAT) from G&W Electric provides an efficient and reliable method for terminating underground cables across the transmission- voltage range from 69 kV to 345 kV. The electrical connector was designed to interface with the injection adapter through a tailored outer diameter and insertion depth of the ferrule. The changes implemented by G&W Electric simplified installation by minimizing the number of tools and die changes required to install the injection adapter and termination kit.
With electrical craftwork paramount to the reliability of transmission cable, training was provided to the jointing crew by G&W Electric at their Bolingbrook, IL headquarters and assembly lab. The crew received certification that qualifies their craftwork on approved terminations for an extended warranty.
DISCUSSION
When faced with an aging underground cable population, cable rejuvenation is often selected over the alternatives based on economic considerations and its minimal disruption to homeowners and businesses they serve. Industry guides and other resources have been created to help circuit owners weigh their options with distribution circuits. This case study demonstrates that the same methodologies may be applied to transmission lines, and the economic advantages of cable rejuvenation over replacement may even widen.
Compared to distribution and service voltages, the cost for underground transmission cable systems increases sharply with voltage class. By one study, construction costs for underground transmission lines are estimated to be $1.5 million per mile for 69 kV and $2 million per mile for a 138 kV. While another study finds underground transmission lines installed in urban areas may exceed $4 million per mile. For comparison, the installation of a typical underground residential distribution (URD) circuit will range from between $150 to $400 thousand per mile. These costs also fail to account for terminations and associated work including construction of substations and risers.
The economics of rejuvenation are often more in line with the economics of overhead construction. Rejuvenating existing circuits may result in further savings by eliminating the costs of environment impact studies and permitting. These advantages make cable rejuvenation an especially attractive option in environmentally sensitive areas near wetlands, estuaries and wildlife sanctuaries.
CONCLUSION
Cable rejuvenation was selected by Atlantic Municipal Utilities to ensure the reliability of their 50-year-old solid dielectric transmission line that forms a critical underground link servicing some of the region's top employers. Cable rejuvenation was selected over the alternatives based on its favorable economics and reduced disruption to stakeholders. The project proceeded from initiation to completion in under 11 months, which included the development of stress- control terminations specific to cable rejuvenation by G&W Electric. The cable rejuvenation project was completed in 6 days, which was 2 days ahead of other maintenance performed in the switch station during the scheduled outage.
We look forward to an exciting show next month in New Orleans! Stop by booth #7122 to discuss your cable maintenance strategy and we will show you how to save you time, money, and build efficiencies through our turnkey solutions.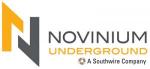 For More Information ContactNoviniumAddress:
22820 Russell Rd
Kent, WA
USA, 98032
www.novinium.com