Increase Reliability with Permanent Online Remote Asset Monitoring
Automated, continuous thermal and visual monitoring of critical industrial assets for early fault detection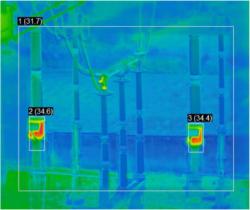 With increasing age, the potential for faults or the complete failure of equipment or assets also increases. Most electric utilities have initiatives and investments to realize condition-based maintenance (CBM) goals.
The use of thermography is a well-proven non-contact method for monitoring conditions and detecting faults in electrical equipment. However, manual inspections are prone to error and the results are highly variable depending on the grid's load and weather conditions. https://info.lumasenseinc.com/watchhere
Electric utilities need an automated, data-driven method to analyze electrical equipment, allowing for continuous monitoring providing early warnings in due time prior to critical incidents happen. By deploying thermal imaging systems such as ThermalSpection 724DV (TS724DV) at critical locations throughout the electrical power distribution system, utilities have continuous, online monitoring without the personnel constraints and limited resources.
The TS724DV system solution includes a hardened enclosure with thermal and visual imagers mounted on a pan-tilt positioner. The system can be expanded with optional fixed thermal imagers and fixed single point infrared pyrometers. Combine these items into a unique asset condition monitoring system to remotely control, monitor, trend, archive, and alarm on thermal deviations.
Each system includes a junction box with all of the necessary hardware for power and data transfer, including a connection cable. This cable serves as the communication link from the camera to the controller. The local controller can be a utility-approved computer or a server from LumaSense which will run the included LumaSpec RT thermal imaging software. Operators can use the software pan and tilt controls for manual positioning. Data from the controller is also published to existing data historians, for example PI from OSIsoft, using Modbus or OPC protocols. https://info.lumasenseinc.com/LearnaboutLumaSpecRT
While the ThermalSpection 724 system is a very accurate and reliable solution especially for substations and electrical switchgear monitoring of bushings, isolators, breakers, capacitor banks, busbars, and transformers, it is also used in industrial settings such as detecting hot spots in fuel storage facilities or monitoring for degradation of refractory in high temperature furnaces and vessels.

For More Information ContactLumaSense TechnologiesAddress:
3301 Leonard Court
Santa Clara, CA
USA, 95054
www.lumasenseinc.com