SPCC Oil Containment using SPI Petro-Barriers™ for water drainage and XR5 Liners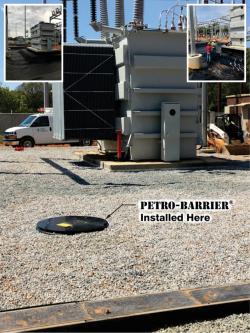 It's important to choose the right company for your SPCC oil containment. Solidification Products International (SPI) has supplied cost effective, innovative, reliable products and systems since 1999. SPI's Petro Barriers are installed worldwide providing rain water drainage with 100% oil spill containment during a catastrophic oil spill event. No oil has ever been released by any SPI system or product during transformer explosions or oil spill releases. All SPI products have been thoroughly Laboratory tested in the United States, Canada and Europe to certify they work as described. Additional SPI product testing has included: low level oil sheen that has run through the media for over 18 months, all resulting with oil being non-detectable. Test results are available upon request.
SPI products are versatile components for oil containments utilizing concrete moats or fabric liner systems. SPI liners are a cost-effective option over concrete for certain applications and site conditions and can provide oil containment for 30 years or more. SPI's XR5 liners used in conjunction with
Petro-Pipes® or Petro Barriers are exemplary 100% reliable oil containment solutions. BEWARE, many competitor liners look similar but use inferior liner fabric which may not be compatible with various oils and fuels. Additionally, many competitors include use of adhesives, tape or poor connection methods. Why choose cheap imitations when SPI can provide your company with laboratory proven Patented products that have an established track record.
All Liners use by SPI have the following benefits:
100% Sealed Systems
Custom Designed to Meet Your Specifications
Clean Ergonomic Designs
Exceptionally Strong XR-5 Material
SPI Liners Satisfy All EPA and State Regulations
Chemical, Hydrocarbon and UV Resistant
Factory RF Welded Seams, No Glues or Adhesives
Liners are Bolted in with Aluminum Strapping
Complete Water drainage through SPI Petro-Barrier
All field Seams tested with High Pressure air
This pictures above represent a substation containment area using an SPI liner system for 2 transformers and a group of oil regulators. Each containment has 125% volume as required by SPCC regulations. There is one 24" diameter Petro-Barrier installed on the floor of each containment area. They all attached together with drainage pipe and brought to day light. Water drainage is 30 - 40 gallons per minute from each area. Each Petro-Barrier is accessible through the removable access cover on the stone surface of each containment area.
Day one all bolts are installed into the concrete pads and a geo-textile is placed on the floor of each containment area.
Day two the liner is laid out and all boots, concrete structures and corners are welded to the liner.
Day 3- Second layer of geo-textile is installed over the liner and all attachments are secured to the concrete pads. The final step is to lance test all welder seams with high pressure air to make sure all welds are sealed and there are "0" leaks.
Before each containment area is back filled with clean crushed stone, a 36" diameter perforated HDPE pipe is installed around each Petro-Barrier to provide access to each drainage system.
When the substation is completed, the stone inside the station is level for access for vehicles and the black cover to each Petro-Barrier is visible in the picture.
Our team at SPI takes pride in providing quality products that have been tested for severe weather conditions, reliability and Top Performance!
Please stop by and visit with us at IEEE PES at booth 1672 where we will do a live demonstration on how SPI's products and systems work with actual transformer oil. Visit our web site WWW.OILBARRIERS.COM and learn more about how SPI protects transformers and substations from escaping oil spills. Please email or phone us to set up an appointment at the show.

For More Information ContactSolidification Products International, Inc. (SPI)Address:
524 Forest Road
P.O. Box 35
Northford, CT
USA, 06472
www.oilbarriers.com