Colombia's Top Power Energy Industry at IEEE PES T&D Conference and Exposition 2018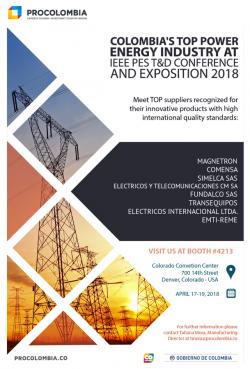 ProColombia, the agency that promotes exports, investment, tourism and country brand is delighted to announce that will be participating this year at IEEE PES T&D Conference and Exposition supporting and highlighting eight national companies recognized for their innovative products and high international quality standards.
The Colombian companies are:
Magnetron: Family company with 45 years of experience in the market. Its main activity is the production of electric energy transformers.

Comensa: Produces cutouts, surge arresters and switches for distribution power energy networks.

Simelca SAS: Has more than 40 years of experience. They develop and distribute products with excellent quality for energy distribution as grounding kits and shunt boxes.

Electricos y Comunicaciones CM SA: They manufacture and commercialize electrical materials and manufacture transformers parts and pieces

Fundalco SAS: is one of the most important enterprises for Electric Energy Transport, started to manufacture high and extra-high tension connectors.

Transequipos: For 3 decades it has been growing steadily, offering services and products focused on the efficient and clean use of energy, to contribute to increasing the productivity of its customers, being proactive to the market, structuring integral and high value solutions.

Electricos Internacional Ltda: This company is located in Bogota D.C., Colombia and is at the forefront of the industry stand out as innovative at Colombia market, Andean Community and also serves various markets around the world. They are looking Distributors.

Emti-Reme. Manufacturer of Polycarbonate boxes for storing energy, gas and water meters. Security seals

We are thrilled to see you there and connect with you from the 17th to the 19th of April at our BOOTH # 4213 at the Colorado Convention Center 700 14th Street, Denver, Colorado.

For More Information ContactProColombia
www.procolombia.co