The Manitoba Pavilion: A Center of Expertise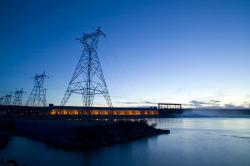 Six companies are exhibiting together as the Manitoba Pavilion at the 2018 IEEE/PES Transmission and Distribution Conference and Exposition (T&D). The Manitoba Pavilion highlights the wide variety of expertise that Manitoban companies offer in the power industry, including:
Manitoba offers world-renowned talent in the power industry, and is a hub of knowledge, professionalism, and innovation. Visit us in Denver from April 17-19, 2018, to learn more about Manitoba's growing expertise.
Manitoba Hydro International Ltd. (MHI) (booth numbers 1351, 1451, and 1551)

Three of MHI's product and service offerings will be represented in the Manitoba Pavilion:

PSCADTM/EMTDCTM PSCAD provides a rich set of tools and models for complete and accurate analysis of transients in electrical systems. This tool is essential to design power system equipment and to verify their performance once integrated into the system.
VisualSpection VisualSpection is a software solution developed for rugged mobile heads-up displays, or smart glasses, which is tailored towards the power and energy sector. VisualSpection connects field workers to remote experts, provides fully customized workflow tasks for inspections/assessments, and provides the visualization of Augmented Reality.
High Voltage Testing Services MHI, in partnership with Manitoba Hydro's High Voltage Test Facility, provides robust quality assurance test programs for a wide variety of high voltage electrical equipment and materials (in accordance with IEEE, ANSI, IEC, and CSA Standards).
RTDS Technologies Inc. (booth number 1250)

RTDS Technologies Inc., the exclusive supplier of the RTDS® Simulator, has been the world standard of real time digital power system simulation for over 20 years.
The RTDS Simulator is used for microgrid and DER simulation and testing, cyber security analysis and assessment, power-hardware-in-the-loop studies, MMC-based schemes, wide area protection using phasor measurement units, and much more.
ERLPhase Power Technologies (booth number 1251)

ERLPhase Power Technologies is an ISO 9001:2008 QMS certified manufacturer of digital fault recording systems and protective relays.
ERLPhase protection relays and power system recorders use best-in-class technology to deliver high quality and reliable products for protection and monitoring of electrical power systems. The company-wide focus on solving customer's problems has led to a line of innovative, easy-to-use, and reliable protection and recording products, which now find widespread application in the power industry.
TransGrid Solutions (booth number 1350)

TransGrid Solutions (TGS) provides expert technical consulting services around the globe in the field of power transmission technologies with a proven reputation for excellence. TGS offers expertise in HVDC, HVAC, FACTS, renewable energy, energy storage, and power quality technologies worldwide.
TGS offers comprehensive services in the areas of power system studies, equipment services including technical specification development, bid review, design review, witnessing factory tests, commissioning support, and O&M support. TGS offers training on a variety of power systems topics including HVDC, FACTS, SSR, and many more.
Ampjack Industries Ltd. (booth number 1550)

Ampjack Industries Ltd. provides innovative, low cost, and upgrade solutions for the electrical transmission industry. Ampjack uses tools and procedures that deal with thermal rating clearance issues economically and safely, ensuring effective operating compliance.
Ampjack Industries Ltd. is an engineering venture initiated to develop and utilize transmission line procedures. These tools and technologies provide full package solution systems to utility and transmission line owners worldwide searching for innovative, cost effective, and safe transmission line upgrade solutions.
Teshmont Consultants LP (booth number 1450)

Teshmont Consultants LP specialize in providing engineering services for HVDC and EHVAC power transmission systems.
Teshmont offers over 50 years of study, design, construction supervision, and commissioning assistance.
Teshmont is recognized worldwide for HVDC expertise, having designed and managed the installation of transmission systems from the permafrost of northern Canada to the deserts of the Middle East.