Galvan Stocks Six Type TTC Transformer Tank Ground Connections In Variety Of Dimensions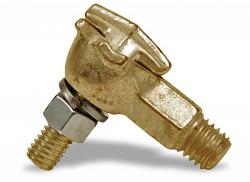 Type TTC transformer tank ground conductors, made with high-conductivity bronze, are available in six versions from Galvan Industries.
The ground connectors feature a ½ to 13 stud thread size that fits all standard EEI-NRMA distribution transformers. The ground connectors can be used in both vertically and horizontally directed cable applications. Available conductor range: 2/0 Str. to 8 Sol. and 1 Str. to 10 Sol. Tin-plated connectors are available.
Galvan Industries' electrical grounding products are used in a wide variety of residential, commercial and industrial applications. These include power transmission and distribution, construction, cable TV, lightning protection, telecommunications and OEM markets.
For more information or to place an order, contact Galvan Industries, Inc. at 1-800-277-5678, or fax to (704) 455-5215. Visit Galvan at the IEEE PES T&D Exposition, Booth #3460, or on the Web at www.galvanelectrical.com.

For More Information ContactGalvan Industries, Inc.
www.galvanelectrical.com
Contact:
Galvan Electrical Products
Fax: (704) 455-5215
Tollfree: 1-800-277-5678
Email: sales@galvanelectrical.com
Web: www.galvanelectrical.com