VisualSpection: Customizable Augmented Reality (AR) inspection-based platform designed for the rugged workforce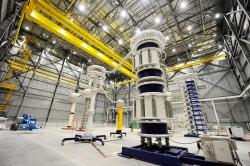 Visit Manitoba Hydro International Ltd.'s (MHI) VisualSpection booth at the 2018 IEEE/PES Transmission and Distribution Conference and Exposition (T&D) one of the three booths representing MHI in the Manitoba Pavilion.
Over the past 15 years, MHI has been delivering mobile solutions to the utility industry, earning internationally recognized awards for operational efficiency and innovation excellence. For the last five years, MHI has focused on improving field efficiencies, a proven effort that includes voice driven solutions with head mounted displays. This measure has demonstrated improved efficiency, safety, and productivity.
MHI offers a software solution, VisualSpection, comprised of Augmented Reality (AR), peer-to-peer communication, inspection workflows, voice activation, voice recording, voice to text, photo/video capture, report generation, passing data to/from external database, and on/offline capabilities through head mounted displays.
Smart glasses, or head mounted displays, deliver a hands-free digital world, providing unprecedented access to information, data collection, and more. AR is a technology that superimposes computer-generated images or text into a user's view of the real world.
AR is best suited for smart glasses allowing users to be hands-on, and differs from Virtual Reality (VR) in that users can continue to see the actual environment they are currently in. VR interferes with the user's vision and reality, preventing the user from truly being hands-on. MHI typically uses AR as situational awareness. AR markers are displayed to aid the workforce in finding an asset quickly to perform maintenance or inspection services.
Benefits of VisualSpection include:
Voice driven data collection (10 times faster);
Rich data capture (GPS tagged audio notes, photos, and videos);
Hands-free approach (30% increase in productivity).
To learn more about VisualSpection and MHI's other innovative services and products, visit us at booth 1451 or contact Adam Vitt at avitt@mhi.ca.

For More Information ContactManitoba Hydro International
www.mhi.ca