New 2200W Portable Power & Light Systems Ready
Much-anticipated 2200W Honda generators have arrived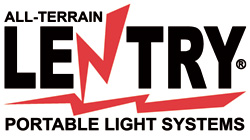 The staff at Ventry Solutions, Inc. has been anxiously awaiting the arrival of Honda's new EU2200i generators for the last three months. It was that long ago that they placed a normal order and were informed that Honda had discontinued the popular 2000-watt generator which had been a main component and the primary power supply of the company's most popular product line, Lentry® Portable Lighting Systems.
This week the new 2200-watt generators arrived and VSI was able to confirm, with relief, that the new Honda generators fit the large-area lighting systems perfectly, without modifications to any component. This is great news for future customers as well as past. All-Terrain Lentry® Portable Lighting Systems that formerly included or fit 2000-watt Honda Generators, will now include or retrofit to the new 2200-watt Honda EU2200i generators. Clients who have 2000-watt units from the past can upgrade if they wish, probably in a few decades, if their original generator ever falters.
The new 2200-watt generators are very similar to the popular-but-discontinued 2000-watt Honda generators formerly utilized on Lentry Portable Light Systems. The overall dimensions are very close (within a few centimeters), the feet are in the same relative locations, and there has been no change in price. The differences that do exist are all benefits: our portable power and light systems will now offer 10% more power than before and offer a full 15 amps (versus 13.8A). Other specifications are posted for comparison on the company website, ventry.com.
This shift from EU2000i to EU2200i generators on Lentry Portable Lights warrants new model/part numbers, which will take the company some time to implement. For now, any systems noted as being 2000W or featuring EU2000i generators will now be 2200 watts and have EU2200i generators.

About the company:
All-terrain, portable Lentry® Lights are made in the USA. They are all-terrain safety tools patented and manufactured by Ventry Solutions, Inc., a small, family owned and operated company in Idaho.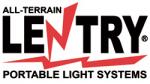 For More Information ContactAll-Terrain Lentry Lighting, by Ventry Solutions, Inc.Address:
14128 N Hauser Lake Rd
Hauser, Idaho
United States, 83854
ventry.com
Contact:
Joan Rodman, Communications
Ventry Solutions, Inc.
Tel: (888) 257-8967
Email: joan@ventry.com