ModuTrench, an Agile Approach to Trenching from Oldcastle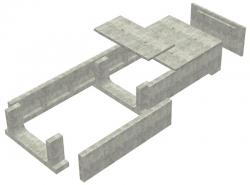 Oldcastle Enclosures Solutions is set to feature several new product introductions and legacy product line enhancements at IEEE PES T&D Conference and Exposition, to take place in Denver, Colorado April 17 through April 19, 2018.
To continue to provide a wide range of products to the electrical transmission and distribution market, we are pleased to introduce our new modular component cable trench system, ModuTrench. This flexible system can be installed in tight, non-traffic applications. The fiber-reinforced concrete component cable trench system is a cost-effective solution that is easy to ship, simple to install on the jobsite, and helps to reduce overall project costs.
ModuTrench is designed on a foundation of 3 main components consisting of brackets, sidewalls, and covers. The system features an open bottom and is backfilled on-site with the aggregate found in most substations to provide rigid support to the structure. ModuTrench accepts standard cable management accessories that can be anchored in the field or in the factory. This pedestrian-rated modular cable trench system is currently offered in three model configurations based on our most popular Plastibeton® configurations; 2016 (20" wide by 16" deep), 3016 (30" wide by 16" deep), and 4016 (40" wide by 16" deep).
Be sure to stop by and see this new introduction first-hand during the IEEE PES T&D Conference and Exposition. Company representatives will be available to answer questions and demonstrate the features and benefits of this product line at booth 1462.
Oldcastle Enclosure Solutions is the leading manufacturer for concrete, polymer concrete, and plastics in the United States. To better serve our customers, Oldcastle Enclosure Solutions has a national footprint of manufacturing and distribution centers to supply products to our customers. They used leading-edge technology to design and manufacture the products across a broad range of industries.

For More Information ContactOldcastle Precast Inc.Address:
900 Ashwood Parkway
Atlanta, GA
USA, 39338
www.oldcastleprecast.com
Contact:
Bob Wethington
Tel: 404-694-5575
Email: bob.wethington@oldcastle.com