Novinium Smart Monitoring helps utilities prevent manhole events
Booth # 1259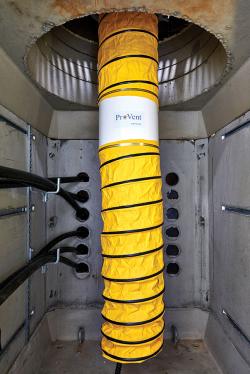 Novinium's PreVent manhole event prevention system comes with what is known as PreVent Smart Monitoring a cloud-based IOT solution that provides real-time actionable insights to help utilities prevent manhole events, including smokers, fires and explosions. The Smart Monitoring solution allows utilities to gain insight into their underground vault structure and receive updated data analytics in real-time for asset management. The Smart Monitoring web portal displays reading from sensor measurements including gas concentration levels of carbon monoxide (CO), carbon dioxide (CO2), methane, oxygen, hydrogen sulfide, water levels, relative humidity and temperature both internal and external. The PreVent Smart Monitor dashboard visualizes the sensor gauges, map and sensor list.
"PreVent is a unique product that addresses the root cause of manhole smoke, fire, and explosion due to flammable gases in our aging underground infrastructure. PreVent focuses on ventilation to ensure that those gases don't accumulate in the first place," says Mark Newton, VP of engineering at Novinium.
To learn more about PreVent and Smart Monitoring, stop by booth 1259 at the show or visit www.novinium.com

About Novinium:
Novinium is today's only full-service cable rehabilitation technology company. We serve utilities across North America to keep their networks operating at peak performance, using the most advanced, capital-efficient, environmentally friendly methods available. We rejuvenate aging underground cable to better than new performance and to exceed reliability standards. Headquartered in the Seattle, WA area, Novinium was founded in 2003 by Glen Bertini, the inventor and expert cable rejuvenation technology.
The company complements its industry-leading expertise in rejuvenation with a range of service offerings including cable assessment, repair and replacement, lineman services, comprehensive data tracking, and end-to-end project management to help utilities of all sizes manage system reliability targets and complex technical challenges efficiently. Novinium recently extended its reach to city streets with the introduction of its innovative PreVent smart monitoring system for vault and manhole event mitigation. Further information is available at novinium.com
For More Information ContactNoviniumAddress:
22820 Russell Rd
Kent, WA
USA, 98032
www.novinium.com
Contact:
Beverly Thompson
Novinium
Tel: +1 253.395.4504
Email: Beverly.Thompson@Novinium.com