Manitoba Hydro International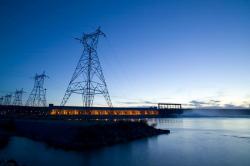 Join us April 17-19th, 2018 in Denver, Colorado to learn about three of Manitoba Hydro International Ltd.'s areas of expertise: PSCADTM/EMTDCTM, High Voltage Testing Services, and VisualSpection
PSCADTM/EMTDCTM: PSCAD provides a rich set of tools and models for complete and accurate analysis of transients in electrical systems. This tool is essential to design power system equipment and to verify their performance once integrated into the system. With 35 years of experience and over 39,000 seats in use worldwide in 83 countries, PSCAD is a reliable and established choice for electromagnetic transient simulations.
VisualSpection: VisualSpection is a software solution developed for rugged mobile heads-up displays, or smart glasses, tailored towards the power & energy sector. VisualSpection connects field workers to remote experts, provides fully customized workflow tasks for inspections/assessments, and provides the visualization of Augmented Reality.
High Voltage Testing Services: HV Test Service provides robust quality assurance test programs for a wide variety of high voltage electrical equipment and materials in accordance with IEEE, ANSI, IEC, and CSA Standards.
Manitoba Hydro International Ltd. is a world leader in the area of power system simulation and applied services. As the pioneers for products such as PSCADTM, our clients have come to rely on our quality and expertise.
MHI has been delivering mobile solutions to the utility industry for 15+ years, earning internationally recognized awards for operational efficiency and innovation excellence
We are a 100% Canadian-owned Company, respected for our exceptional customer service. With over 40 years of experience, our skilled team of engineers at the High Voltage Test Facility are able to provide test services tailored to meet the specialized needs of electrical utilities, heavy industry, and academic research institutions.
Come visit us at booths 1351, 1451, and 1551 in the Manitoba Pavilion to learn more about Manitoba Hydro International's expertise in the industry.

For More Information ContactManitoba Hydro International
www.mhi.ca