HOT/SHOT Infrared Inspection Inc. Announces Availability of New Multi-Sensor Corona/HD/Infrared Camera Services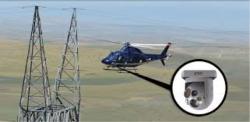 On April 5th, HOT/SHOT Infrared Inspection Inc. announced official release of their new service utilizing the OFIL Corona/HD/IR. HOT/SHOT's new OFIL camera technology and service adds to their already extensive line of infrared services by adding UV inspections and the ability to perform HD camera surveys.
HOT/SHOT has thoroughly tested the new technology in Adelaide, Australia and in several varying conditions and applications. Both HOT/SHOT and their partner, AirOcean Aviation are very pleased thus far with the results.
New Technology/Service specifications and availability:
This new technology has been powered and driven by customer feedback and is part of HOT/SHOT Infrared Inspection Inc.'s commitment to deliver the latest technology and service offerings. The new corona/HD/infrared camera technology will enable HOT/SHOT to combine flights into one multi-sensor inspection. The DayCor® ROMHD is a 4-axis (or 5-axis, per demand) active gyro stabilized airborne inspection system. The imaging system includes the high definition (HD) DayCor® corona (UV) detection sensor with combinations of a HD TV camera, and an IR sensor. The stabilized system and the characteristics of the cameras and sensors enable high speed flight and remote detection of electrical and mechanical failures on overhead lines and installations.
DayCor® ROMHD incorporates three highly sensitive cameras (DayCor UV, FLIR 640 & HD video) into a gyro stabilized payload. This system provides high resolution images and videos providing accurate and extraordinary quality reports. The DayCor sensor has a discharge sensitivity of 1 pC from 15 meters coupled with rapid optical zoom and auto focus enables reliable detection and capture of distant corona emission, and of moving targets without smearing the output image.

About HOT/SHOT Infrared Inspections, Inc.
Founded in 1985, HOT/SHOT Infrared Inspection Inc. is a worldwide leader in infrared technology and inspections. HOT/SHOT offers a wide range of products and services designed to consistently provide the highest levels of quality, service and integrity through the delivery of infrared imaging services for client-based applications. Through embracing technological change, HOT/SHOT creates value for its clients, owners and employees.
In 1990 they purchased their first aerial infrared camera and became the premier aerial infrared inspection company. They use their aerial, drone, handheld and truck mounted cameras to perform commercial/industrial electrical system inspections, power utility inspections, infrared roof moisture surveys, building envelope energy loss inspections and transmission / distribution / substation inspections. They have also successfully pioneered the use of infrared in detecting blockages in fan coil systems and customized inspections such as, snow melt surveys, land fill inspections and animal count census surveys.
HOT/SHOT Infrared Inspections operates infrared camera systems, including FLIR P60, P660, 2000 series cameras and HOT/SHOT's newest technology, Ofil ROM 400 Corona Infrared camera. These cameras are operated by highly qualified and certified thermographers, with over 100 years combined experience in the field. Their Master Thermographer, Christopher Cox, guides their team of certified thermographers toward excellence in thermography while the remaining management focuses on customer satisfaction.

For More Information ContactHOT/SHOT Infrared Inspection Inc.
www.hotshotir.net
Contact:
Kim Lewis
Tel: 303-232-0090
Email: Kim.Lewis@hotshotir.com