DayCor® Cameras for UAS and sUAS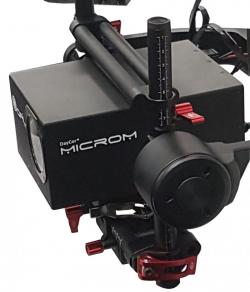 DayCor® micROM HD Camera on a UAS gimbal
One of the most significant benefits of using drones in substations, along OH transmission or distribution lines has been their ability to safely and efficiently serve as eyes extensions. Eyes extensions mean that they should be able to get to hard to get locations, transmit visual information in real time, be able to show phenomena that are beyond human eyes ability.
The benefit of using drones relies, therefore, on the combination drone-sensors.
Ofil LTD. dedicated a line of compact DayCor® cameras to be used on UAVs. This line of cameras named micROM HD consists of ultralight weight HD cameras implementing our proprietary solar blind bi-spectral imaging technology, which stands for high sensitivity, reliable data, user friendly operation.
The need to collect data in real time and get a true clear picture of the inspected area is met with the following features:
Real time imaging without any processing delays
High sensitivity to UV providing information on any occurrence of corona PD
Ongoing operation without any need to cool down the operating camera
Accurate overlay of UV and Visible imaging to provide a reliable pinpointed information about corona location
High quality imaging to enable operators assess the condition and decide whether more investigation is needed or where the drone should move to
Advanced optics with powerful zoom and auto/manual focus to enable good close up view of the inspected system and seeing their name plates or ID
Adding supplementary data such as GPS, temperature and humidity
At the same time, Ofil cameras are built a Plug-N-Play and are ready to be integrated with most drones. DayCor® micROM is a HD camera: compact, bi-spectral UV-Visible solar blind camera with low power consumption, built in recorder and video streamer and with electro-magnetic shielding. DayCor® micROM HD corona camera was built with features that adhere to the electric grid inspection needs.
The outstanding benefits gained by using DayCor® micROM HD are:
Reliable detection results - taken care by the unparalleled enhanced sensitivity to corona PD
Documentation - achieved by onboard recording and outbound streaming
Exact position of faults - GPS data embedded in the recorded imaging
On the fly information - micROM HD camera displays in real time the pinpointed image of the fault
Mount and shoot - with the onboard protocols and communication ports inspectors need to mount the camera on a gimbal, plug the wires and start inspection. Easy, simple and intuitive
Ofil guarantees full customer support to its products starting at the phase of integration up to the operational stages. Our products are renowned for providing appealing user experience, great value of information, geared to support our customers' missions.
Ofil Ltd is the leading manufacturer of daytime corona imaging systems. Range of products include solutions for handheld, driven, aerial and OEM. In business since 1993, with worldwide clientele. Ofil Ltd.

For More Information ContactOfil Ltd.
http://www.ofilsystems.com/