Condux Tesmec Introduces New Electric Puller on Display at IEEE PES T&D BOOTH #2203
Condux Tesmec, Inc. will display its new all-electric puller at the IEEE PES T&D show. The new Condux Tesmec PE1250 all-electric puller is the industry exclusive. With an electric motor, the PE1250 eliminates the need for hydraulic components such as hydraulic motors, pump and valves, and requires no oil. The unit's silent operation makes it ideal for almost any location, while the electric power system generates zero emissions.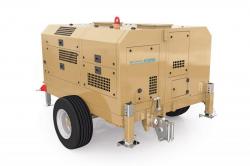 The PE1250 delivers a maximum pull force of 11,240 lbf (50 kN) and offers and an advanced user interface and remote control.
Manufacturer Contact:
Condux Tesmec
145 Kingswood Road, Suite 1
Mankato, MN 56001
Phone: (507) 387-8069 or 1-888-980-1209
Fax: (507) 387-3855
www.conduxtesmec.com
Agency Contact:
Jim Schill
Lime Valley Advertising
Phone: (507) 345-8500
Email: jschill@limevalley.com

For More Information ContactCondux TesmecAddress:
145 Kingswood Road, Suite 1
Mankato, MN
USA, 56001
www.conduxtesmec.com