Solidification Products International: The Leader in Passive Oil Removal from Stormwater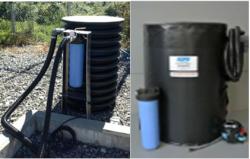 Founded in 1991, SPI is a company dedicated to creating products that protect the environment from oil and hydrocarbon contamination. Starting with specialized absorbents to solidify spills and sludge or separate oil from water, SPI has evolved into a leader in producing state-of-the-art spill containment products and systems. SPI technology has led to the development of passive oil containment systems that offer 24/7 protection from the release of oil, whether a faint sheen or a full-blown spill. These systems are particularly important for unmanned containment areas where oil contaminated stormwater could runoff or overflow into the environment. SPI's research and development has resulted in a variety of U.S. and Canadian patents for innovative oil containment products and environmental protection.
In addition to effectively trapping oil, the media in SPI products will physically react with oil to instantaneously form a plug thus preventing any oil from being discharged from an SPI product or containment system. Many materials absorb oil but only SPI offers products that guarantee maximum performance: No oil has ever escaped an SPI product.
Over the years, thousands of SPI Petro-Plugs*, Petro-Pipes*, Petro-Barriers* and custom-made oil absorbing products have been installed across the United States, Canada and throughout the world. All have performed up to or beyond expectations. SPI continues to find solutions to even the most difficult environmental problems related to contamination from oil, hydrocarbons, and related materials. Our capabilities range from retrofitting storm drains for 100% oil spill containment to engineering and manufacturing custom products for a multitude of applications that are vital to all industries that seek to protect the environment.
SPI continues to develop new products and expand the capabilities of current products. SPI has custom-sized heating blankets for its Pump-Thru Barriers (OWS) and their external filters to allow it to function in freezing weather. With the aid of a sump pump, this product collects and treats subsurface water by pumping the potentially contaminated water through the Pump-Thru Barrier (OWS), quickly emptying rainwater from containment, and discharging the filtered water. This SPI product is sold globally and is quickly becoming one of our most popular oil/water separators in the industry.
For more information on the entire spectrum of SPI products designed and manufactured for removing oil and hydrocarbon contamination from stormwater, please visit our website: oilbarriers.com or give us a call at 203 484-9494.

For More Information ContactSolidification Products International, Inc. (SPI)Address:
524 Forest Road
P.O. Box 35
Northford, CT
USA, 06472
www.oilbarriers.com