New Product Line: TR Station Post Insulators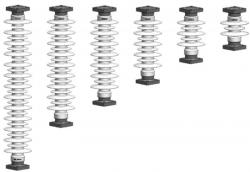 Our newest SIMOTEC composite station post insulators combine the highest levels of electrical insulation and mechanical strength in a compact and lightweight design.
Mainly used for bus bar supports in substations, for disconnector switches, and for HVDC converters, the insulator shows superior advantages compared to porcelain insulators in terms of weight, design strength, pollution resistance, and seismic performance resulting in lower total cost of ownership (TCO) for our customers and end-users.
Our insulators are designed and tested according to the specifications outlined in IEC 62217, IEC 61952, IEC 61109, IEC 62231, and ANSI C29.19*.
Key advantages compared to porcelain insulators
Lightweight: Better handling, easier maintenance, lowering servicing cost significantly
Outstanding pollution performance (dust, sand, UV, salt, etc.) and flashover resistance due to repellent silicone sheds: Reducing downtime and total cost of ownership (TCO)
More resistant to shocks and vibrations providing high safety and reliability in the field
Produced in Europe with 100% renewable energy (hydroelectric and solar power)
Due to the independence from the gas supply and the less energy-intensive production, we can provide security of supply for our customers
Visit us at Booth #7620!
(*certification in progress)

For More Information ContactKUVAG North America Inc.Address:
1755 Park St Suite 200
Naperville, IL
USA, 60563
http://www.kuvag.com