SPCC Oil Compliant Containment
Custom or off the shelf, never a Challenge for SPI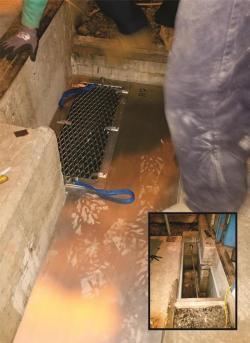 Since 1991 Solidification Products International (SPI) has been providing our customers with a variety of solidification products for oil spill clean-up. Bill Gannon President/CEO of SPI always knew there was a better way to stop oil spills from impacting the environment. After suppling the first oil solidifying technology ever listed on the NCP List (National Contingency Plan) it was accepted by the USEPA for use in navigable waters on oil spills. Then, after that technology was used in Alaska on the Valdez Spill, he knew he could create a better product by providing oil containment.
In the 1990's Gannon developed his patented media and systems and currently holds 12 US and Canadian patents for oil containment. All SPI's patents are based on allowing water to drain out of oil/fuel containment areas while removing oil sheen to non-detectable levels. Most importantly, they provide a complete shut-down of all flow in a total equipment failure. All SPI products and systems have been thoroughly laboratory tested with positive results. Many products have been exposed to oil spills, fiery transformer explosions and extreme weather conditions, all without one failure from the SPI patented products.
Since SPI started installing oil containment systems and products in 1999, our products have been used all over the world, providing solutions for: utilities, refineries, municipalities and a multitude of other applications. Custom installations can be a difficult task since drainage systems were often built without any thought to oil containment. This created challenges for drainage which often made installing an oil containment area difficult. The team at SPI has met those challenges head on with a variety of products, systems and innovative solutions.
In the pictured application at a major utility in New York, SPI was given the task of providing containment for 10 large Transformers and Reactors. The substation is large but compact as space is limited in this city which created a challenge for containment. The storm drains were all different sizes with different obstacles in each. In the pictured storm drain, the size is not normal, and a grounding cable goes through the center of the drain.
After taking measurements and pictures of all the different drains, the only way to accomplish this job was to customize each drain. SPI designed and fabricated plates, and custom sized Petro-Barrier Storm-Water boxes that allow rain water to drain while filtering out any oil sheen. In the event of a large oil release the Patented Petro-Barrier Media will shut down all flow and seal keeping all spilled oil in the containment vault. SPI designed, fabricated and installed all 20 systems in 6 weeks exceeding the time frame.
SPI has been supplying our Patented media and products for custom and off the shelf products since 1999. SPI's Petro-Plug's, Petro-Pipes and Petro-Barriers are installed in 1,000's of containment areas with many oil and fuel spills and explosions from oil filled transformers. During that time, no oil has ever escaped any SPI Product or System.
Benefits of SPI Patented Products and Systems:
Ease of use
Customizable Applications
Proven Product Performance and Reliability
Full design and CAD drawing
Made in the USA
SPI- Professional Customer Support
Piece of mind, knowing that you have purchased QUALITY!
Please stop by and visit with us at IEEE PES at booth 8257 where we will do a live demonstration on how SPI's products and systems work with actual transformer oil.
Visit our web site at WWW.OILBARRIERS.COM and learn more about how SPI protects transformers and substations from escaping oil spills. Please email or phone us to set up an appointment at the show.

For More Information ContactSolidification Products International, Inc. (SPI)Address:
524 Forest Road
P.O. Box 35
Northford, CT
USA, 06472
www.oilbarriers.com
Contact:
John Panaro
VP Sales & Marketing
Tel: 203-433-4213
Email: jpanaro@oilbarriers.com