Reliable, Maintenance-free, Oil Containment for Small Oil-Filled Equipment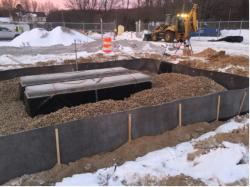 Albarrie's Oil Blocker Plus is a secondary transformer oil containment system, engineered to trap and lock in mineral oil around small oil-filled equipment. Oil Blocker Plus uses a patented mineral oil reactive, self-sealing smart fabric technology to capture oil leaks. This system allows rainwater to pass freely through its vertical walls, while trapping and locking any leaked mineral oil on contact. This system prevents oil from passing into the soil and navigable waters.
Albarrie's engineering team works with your team to determine capacity limits before designing a containment that suits your site specifications. Oil Blocker Plus uses Albarrie's oil blocker barrier boom solution around the perimeter of the containment area, to trap any leaked mineral oil from oil-filled equipment. It is quick and inexpensive to install, allowing companies to meet SPCC regulations for secondary containment at a fraction of the cost of other alternative methods.
Applications
Ideal for small transformers at solar and wind farm applications
Small-size transformers and other oil-filled equipment
Mobile transformers
Electrical transformer storage facilities
Around existing pad mount transformers
Install in Greenfield or Brownfield
Benefits & Features
Effective 24/7 spill and leak protection - proven effective by numerous installations in North America
Virtually Maintenance-Free - the smart vertical barrier boom allows water to pass through freely through its perimeter walls but traps and locks mineral oil on contact,
Budget-Friendly - compared to similar secondary oil containment systems the Oil Blocker Plus is 50% less expensive (on average) to install
Flexible Design- easily configures around existing infrastructure
Customized - designed for your specific application by our professional engineers. Custom sizing and volume capacity depend on your requirements. The secondary oil containment system can be extended or modified up to and during installation
Easy to Install - installed without interruption of service in either brownfield or greenfield applications in approximately two days
Polymers Stay in Place - Produced with a continuous stream of oil immobilizing polymers encapsulated between two nonwoven geotextiles means there is no shifting of the polymer during handling, cutting or installation
Addresses Sandy or Unknown Soil Types - Our impermeable layer is installed at the base of the oil containment area to protect the soil underneath when the soil type is sandy or unknown.
Environmentally Compliant - Meets EPA requirements of secondary containment for SPCC 40 CFR 112.7 and IEEE Std. 980
As part of our commitment to full service, we stamp our IFC drawings. Our final reports include stamped As Built drawings, detailed volumetric calculations of the containment, step by step documentation of the installation and an emergency preparedness guide.
Join us at IEEE 2022, booth # 5618
For More Information ContactAlbarrie GeoComposites
www.albarrie.com/secondary-containment/
Contact:
Carla Smiderle
Tel: 705-241-7965
Email: carla_smiderle@albarrie.com