Conductor Repair After Spacer Damper Damage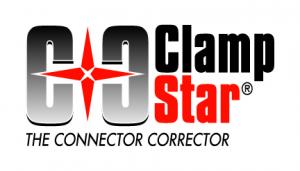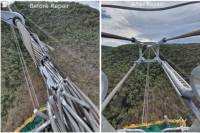 Damage caused by worn Spacers, Spacer Dampers, Dampers, Aircraft Markers, or other line hardware - or lightning and gun-shot - is easily and quickly repaired.
The accompanying photo shows corrected conductor damage on a 29.3 mm O.D. transmission conductor using a ClampStar CRU-1386-016-04 repair unit. This is a 2-piece design, self-shielding to 800kV with unlimited ampacity that installs in minutes and restores both the mechanical and electrical properties to meet ANSI-C19.4 "AA" heavy-duty standards.
Classic Connectors' distribution and transmission class ClampStar® units are available for use on splices, deadends and damaged conductor. For all aluminum stranded conductors, eg., ACSR, AAC, AAAC, ACAR, ACSS & Composite Core. Also available for OHSW, OPGW, Copper and SWER. Available for conductors sized from #6 AWG - 2515 kcmil (up to 1.912 inches diameter)
Visit us at booth 7721 to see ClampStars on display and discuss your company's specific needs with our application engineers.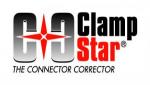 For More Information ContactClassic Connectors, USAAddress:
382 Park Avenue East
Mansfield, OH
USA, 44905
www.ClassicConnectors.com
Contact:
Classic Connectors, USA
Tel: 800-269-1462
Email: info@ClassicConnectors.com