Solidification Products International, Inc. Celebrates 31 Years in Business!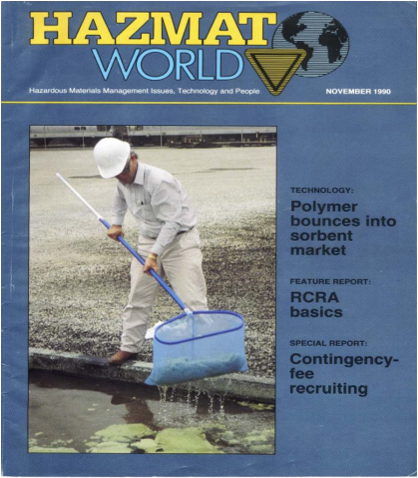 Bill Gannon founded (SPI) in 1991 with a focus on solidification technology, oil spill prevention and environmental protection. Since then (SPI) has evolved and expanded its distribution across The globe with a variety of SPI manufactured products and oil containment solutions.
Bill's expertise in oil spill cleanup as executive vice president of Liquid Waste Technologies from 1985 to 1991, along with the use of polymer technology on oil spills, such as the 1989 Exxon Valdez oil spill, were key factors in the creation of SPI to promote this unique technology. SPI's early years were focused on oil and water absorbent products called Oil Bond® and WaterBond .
Evolution
A natural evolution from spill cleanup to oil spill prevention occurred during the late 1990s. SPI's development and patenting of SPI Petro-Barrier , Petro-Plug® and Petro-Pipe® provided solutions to SPI customers' oil containment needs with a passive, cost-effective solution for oil sheen removal and oil spill containment.
Bill Gannon and the team at SPI continue to focus on the future with innovation of new product development, expansion of target market segments, quality control and service excellence.
SPI is a United States, GSA approved manufacturer. All products and systems are manufactured under the ISO-9001: 2015 Quality Assurance guidelines and built within compliance of the (SPCC) Spill Prevention Control and Countermeasure regulations. They are additionally approved under the EPA Environmental Equivalence provision.
SPI's systems and products have been installed around the world in the electric industry for oil-filled equipment, such as transformers, and by many other industries in a myriad of oil spill containment applications.
SPI provides the most cost-effective and technically advanced yet functionally simple oil spill containment solutions for a wide variety of applications in two general areas:
wherever oils and fuels have the potential to contaminate surface or groundwater, or
where contamination has already occurred, and the oils and fuels must be separated from water prior to discharge into the environment.
The Future is bright for Solidification Products International, Inc. Following the development and patenting of the SPI Petro-Barrier , Petro-Plug® and Petro-Pipe®, the SPI team has continued to focus on R&D and new innovation as they strive to remain as an industry leader in oil containment solutions.

For More Information ContactSolidification Products International, Inc. (SPI)Address:
524 Forest Road
P.O. Box 35
Northford, CT
USA, 06472
www.oilbarriers.com