Indji Systems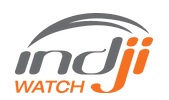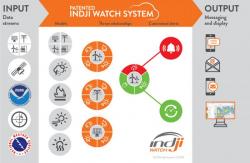 Since 2004, Indji Systems has been delivering situational awareness solutions to the utility industry through the Indji Watch product. It is designed to aid grid operators by giving them greater insights into environmental threats and allowing them to be proactive in making better informed decisions on hazards that threaten their utility operations. As the renewable industry grew, Indji Watch expanded and tailored a natural hazard monitoring and alerting product for wind farm and solar operations. Indji Watch is the only solution that can monitor a full spectrum of hazards including: lightning, high winds, wildfires, temperature extremes, ice accumulation, floods, earthquakes, hail and much more, and then alert them in real-time to those threats that will impact utility or renewable assets.
Our unique patented system provides dynamic modelling of hazards, enabling the identification of threats to assets. Utility assets, including power lines and sub-stations, as well as wind and solar assets for renewable organizations, are precisely identified, in contrast to other systems which only alert based on a handful of points within the network or farm. The Indji Watch threat dashboards provide a single view of each asset, the type of threat and distance to the asset, giving the operations personnel greater visibility. For grid control centers, decisions can be made quickly to adjust loads when necessary, avoid outages, and quickly locate faults. Renewable operations centers and site managers can more confidently shut down turbines or stow solar panels to prevent damage. Each customer chooses the hazards and alert thresholds they want to see that are critical to their business including choosing to receive alerts via their mobile device, tablet or desktop device.
Our three-step approach provides tools to help you PLAN for upcoming weather hazards, RESPOND to current conditions threatening your grid or renewable assets and INVESTIGATE damage quickly allowing your operators to have confidence about lightning caused damage or fires.
PLAN - Asset specific forecasts, advanced forecast radar and forecast lightning provide storm forecasts in advance for crew scheduling, construction and maintenance planning for your organization. The Plan of Day/Week for renewable operations also provides a continually updating view of approaching weather threats.
RESPOND - See a live view of all current wildfire and weather threats specific to the utilities' own lines with the Asset Threat Window or the Multi Farm Dashboard for renewable operations. Receive alerts when natural hazards exceed the user defined threat thresholds.
INVESTIGATE - Use the Lightning Fault Analyst for early lightning fault correlation and outage location response or quickly determine which turbines could have been hit by lightning.
From a system-wide overview right down to an individual asset, Indji Watch will ensure that your team has the best possible picture of what the weather will be doing in the near future, as well as analytic capabilities to determine what happened in the past. The Indji Watch solution partners with and delivers data from the most trusted and highly reliable sources to provide you with the most accurate real-time weather alerts, and hourly-updating forecasts.
Visit us at booth #7623 to see how Indji Watch can help you with system and maintenance planning before extreme weather hazards cause damage.
For more information, contact us at:
Email: info@indjwatch.net
Phone: 650 641-2653
Check us out at: www.indjiwatch.com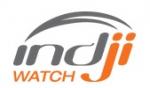 For More Information ContactIndji Systems
California
United States,
https://www.indjiwatch.com