Transformer Health Assessment Using PowerDB Software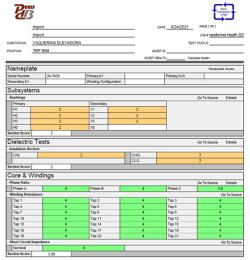 Reliability of an electrical system correlates with diagnostics and maintenance of its assets. Since power transformers represent some of the largest investments in the system, they have become a major area of focus for system operators and maintenance personnel. Transformers are not the least reliable assets in a power system, but they can cause some of the greatest disruptions if a failure does occur.
The first step in determining the health and overall condition of a transformer is gathering, storing, and organizing data from maintenance and testing activities. PowerDB software and equipment database is the tool of choice for managing that data and making it available for analysis. This popular software includes simple test forms for collecting data from ratio, winding resistance, power factor, dissolved gas analysis, and other applicable tests.
Transformer experts recognize that the cause of failure of power transformers may not only reside inside the transformer but might be an effect derived from the failure of one of its accessories (bushings, tap changers, cooling systems). These external factors must also be considered for a complete analysis. The PowerDB library of standard test forms includes forms for capturing test and inspection data for many types of external systems.
Intuitive test forms
Recently PowerDB, in conjunction with Megger, has developed a single Health Assessment test form for transformers that consolidates the data from the individual forms for each unique test into a single test form. Using industry standards as the source for the logic behind the analysis, the data from each relevant test is summarized and graded separately in sections on the Health Assessment form. Then the result from each test is weighted alongside the other tests to provide an overall condition of the transformer.
PowerDB has a simple organization structure for maintaining the historical results for each test on a transformer. Realizing that not all test data may be available or collected on the same schedule, the Health Assessment form will process only the data that exists. The individual sections on the Health Assessment form update automatically as new data is entered and stored in the database. If a particular test has never been performed, then it will simply not include that test. If historical results are available, then they may all be used for trending analysis.
Collection of data into PowerDB can be managed either using internal employees or contracted service companies and the information from multiple sources merged into a single database file. Data can be from automated testing using many modern test instruments, importing data from external files, or simply by manually entering the data.
Going to IEEE PES in New Orleans, Louisiana?
Visit Megger at booth 8529 to see the capabilities of PowerDB software. You'll see how this powerful software package can provide data management for each of your acceptance and maintenance testing jobs.
For additional information on PowerDB, visit our website at:
https://us.megger.com/test-data-management-software-powerdb

For More Information ContactMegger
https://megger.com/