Stop by the Indji Systems booth# 7623 and enter to win a Series 7 Apple Watch® with advanced safety features: Emergency SOS, Fall Detection and International Emergency Calling.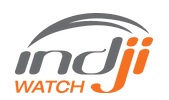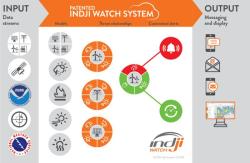 Team safety is important to us, and since 2004, Indji Systems has been helping to keep the utility industry and their staff safer by delivering situational awareness of environmental threats. The Indji Watch patented monitoring and alerting system sends alerts based on user defined thresholds such as high winds, lightning and wildfires, allowing them to make critical decisions quickly on hazards that threaten their utility operations and line-worker safety.
As the renewable industry grew, we grew with it and created Indji Watch natural hazard monitoring and alerting specifically designed for planning and safety at wind and solar farms. The entire site is modeled to provide the best alerting for technicians, even on the perimeter of the farms. The On-Site Lightning Advisor was recently added to enhance the Renewables app, giving crews greater insight of approaching lighting specific to their physical location, so they can stop work, or decide with management that they have precious time to finish a job, and reach the ground safely before lightning arrives.
Visit us at booth #7623 to see how Indji Watch can help you gain greater insight into upcoming weather hazards that could threaten crew safety as well as your assets, enter to win the Series 7 Apple Watch® with advanced safety features.
For more information, contact us at:
Email: info@indjwatch.net
Phone: 650 641-2653
Check us out at: www.indjiwatch.com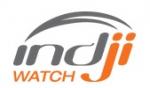 For More Information ContactIndji Systems
California
United States,
https://www.indjiwatch.com